Let's not forget the hostages, Norman Kember, Tom Fox, James Loney and Harmeet Singh Sooden still held in Iraq
.
My thoughts are with Pat Kember, whose peaceful demeanour and calm dignity in the face of what is for most of us, an unimaginable terror, are humbling.
My thoughts also turn to the people of Iraq. Since the new year began, over 240 people have been killed and 280 wounded. Violence continues to rage in Iraq, but it is much less reported on our televisions. I remember talking to a friend of mine before the Iraq war began. He is in the British navy and was worried that he may not be able to complete his MSc before getting called up. I asked if he was worried, he said, 'No, if we go to Iraq now, we'll nearly all be home in 6 months and it will all be over.' It would appear things have not gone according to plan.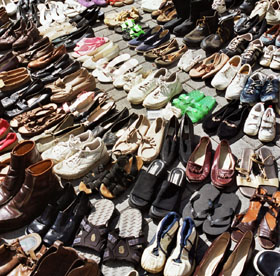 Pat Kember still has hope, but for many Iraqi citizens and many American and British troops, they already know their family and friends aren't coming home again. How much we need more people like these four hostages to work for peace. Let us not let Iraq slip to the back of our minds.
(In case you're wondering, the pictures are from the
American Friends Service Committee's
'Eyes Wide Open' exhibition, highlighting the human cost of the Iraq war. Each set of shoes represents a soldier or civilian killed in Iraq.)